Scaleup firms or firms showing high growth generally raise larger funding rounds than non-scaleups. It is often a perceived notion that firms raising larger funding tend to become scaleups. According to Startup Genome's latest report, it observed that large scaleups (large scaleups refer to those companies reaching billion-dollar valuation and exits and those having exits over $100 million) raise more than $10 million in series A compared to all other Series A rounds.
---
Looking at this statistic, a straight inference can be drawn that larger funding rounds signal that a startup is on the way to become a scaleup or even a unicorn. Policymakers take this logic seriously and start making plans to pour more money to increase funding rounds. However, this approach is quite flawed and has led to many ill-advised funding rounds.
"Funding Size and Number of Scaleups are faces of two different coins"
Considering the distribution of large funding rounds across different regions and countries, the Genome Report goes on to show that startups in Toronto raise a similar number of large Series A rounds as those in London and even more than those in Tel Aviv. However, Tel Aviv produces approximately 2.5 times more scaleups than those produced by Toronto. The number of scaleups produced by Tel Aviv is nearly like the number of scaleups produced by London over the past decade.
"I think the Early-Stage funding landscape in the Frankfurt Rhine-Main region should be improved to attract more start-ups from abroad. Unlike other major cities such as Berlin, Munich, and Hamburg, Frankfurt does not yet have a very active regional Early-Stage Fund that could invest more liberally than VCs would. The business- angel scenes in Frankfurt is well developed and VCs with national focus fund more developed companies but the startup scene would benefit from a local player in the Early-Stage space"
Ingo Franz
Business Angel and Partner of Kreaxi Ventures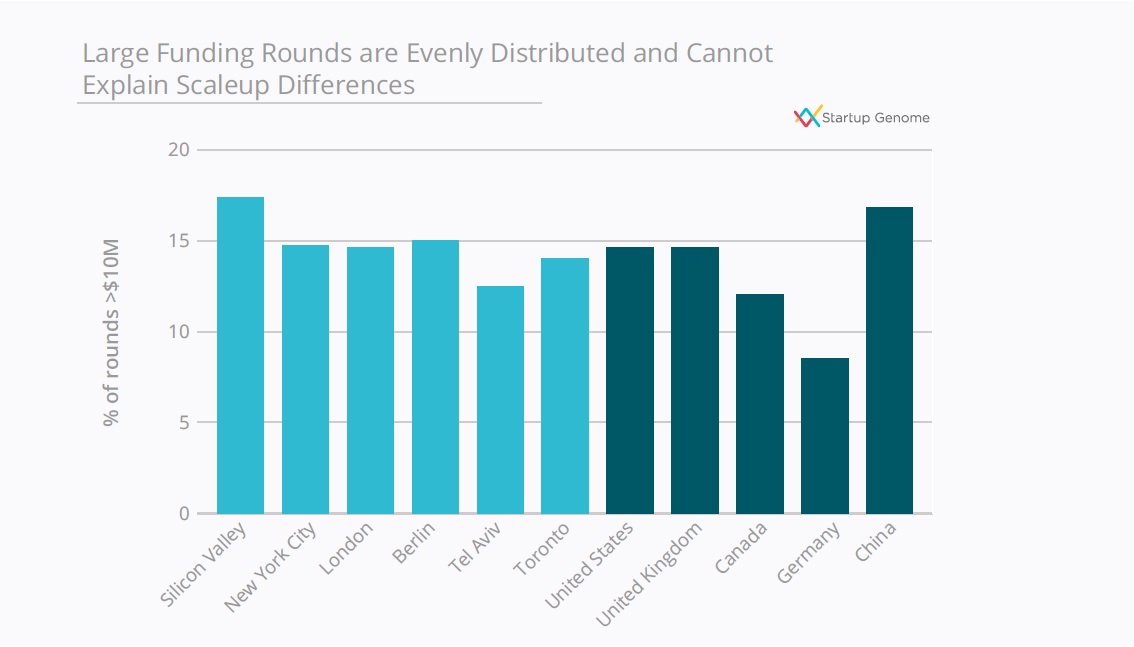 "Go international or stay confined!"
The top startups in Toronto are able to raise large funding rounds but most of these rounds come from foreign investors who are mostly out of Toronto's ecosystem. The reason behind this phenomenon is not that Toronto's best startups are lacking funding access but that they are simply going outside their ecosystem and receiving funding from international investors.
So, is it the right way forward to increase funding round size to create scaleups? The answer, as stated by the Genome Report is, however, not to increase Series A and beyond funding from local investors. The crux of the matter is deal flow and attrition, not the size of the round. In most of the ecosystems, other than the startup ecosystem in Silicon Valley, New York, and London, the funnel of startups narrows down rapidly between seed and Series A.
"The answer is Dealflow!"
The "best" startups in Toronto are able to access a large number of investments from international investors while the ones in lower tiers have to rely on local investors. Relying on local funding limits the options and it becomes even more difficult to secure funding at Series A and beyond. Consequently, the low tier startups get access to a lesser number of resources and these restraints on resources further curbs down their potential to grow.
Toronto is just one example, there are multiple ecosystems in the world which are currently in the Activation phase and a lot of them such as Frankfurt still lack a strong presence of international investors. At the end of the day, the challenge with funding is dealflow not the investment size. Scaleup creation can only be facilitated when the funding funnel is widened.